Meet Our Ace Assistant Designer.
10 Questions for Assistant Designer, Samantha Kegley.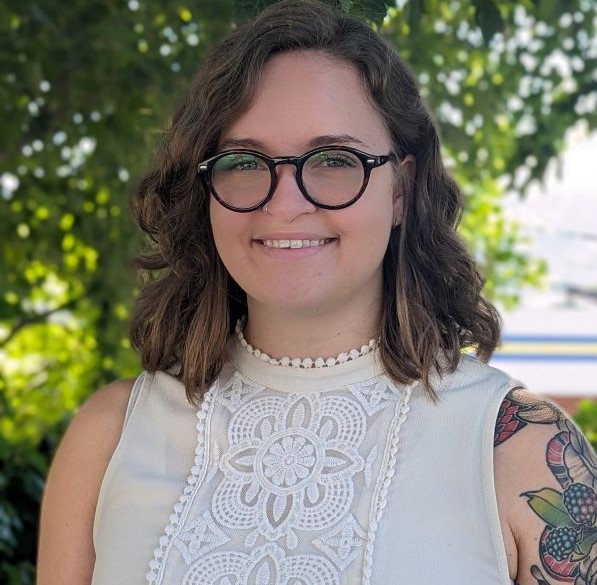 We Asked. She Answered. Now You Know.
---
1. Why did you join the Pisgah Energy team?
I joined the Pisgah Energy team to begin my career in renewable energy – the job description itself was a near-perfect match to what I dreamed of doing. After meeting the team during my interview, I was sold! I can't wait to learn as much as possible from the knowledgeable, intelligent, and experienced personnel. It feels incredible to be participating in the drive towards a sustainable future.
2. What drew you to work in renewable energy initially?
My parents instilled in me a very deep respect for the environment. They were avid backpackers and campers who grew up in the Appalachian Mountains. From a young age, I was taught to garden and care for animals. I was drawn to renewable energy because I wanted to ensure that the wonders of the natural environment are preserved for future generations. Everyone should have a chance to experience the truly wild parts of the world. 
3. What most excites you most about the future of renewable energy?
Agrivoltaics is something that excites me greatly! It is a simple solution to an issue that solar faces – land use requirements! Locating normal agricultural practices on the same plot of land that contains ground-mounted solar arrays is a way to produce energy and food at the same time. There are mutual benefits to the co-location of the two. The concept is still in its infancy. I believe it is only practiced in a few states, mostly as collegiate research. On the technical side of renewable energy, I am thrilled to see where energy storage methods and battery technology go in the next 10-15 years.
4.  What's the weirdest job you've ever had?
I was an assistant manager at Jimmy John's for a few years in college. The job itself wasn't too weird, but the corporate certification process for managers was! You are timed doing almost everything. To pass, you must be able to make a full sandwich, start to finish, in 60 seconds or less.
5. Is there a 'Next Big Adventure' you'd like to go on?
My partner and I are trying to plan a trip to Spain, Morocco, and Italy in the next few years. I have also been learning Spanish and want to be fluent someday. My goal is to use my language skills to travel through South America. Last but not least, getting married! My fiancé and I got engaged at the beginning of 2023. 
6. Do you have a favorite meal and/or dessert?
My favorite meal to make at home is spicy tofu stir fry. For dessert, key lime pie. 
7. What do you enjoy doing outside of work?
Outside of work, I love to read, kayak, spend time with my dogs and fiancé, garden, and continue learning to play bass.
8. What kind of music is at the top of your list these days? 
The most played artists on my Spotify account right now are Khruangbin, Radiohead and BADBADNOT GOOD. I gravitate towards music with a strong groove, although I love to listen to almost all genres! 
9. Do you have a personal mantra or favorite quote?
"Now that you don't have to be perfect, you can be good." – John Steinbeck, East of Eden. The novel is a multi-generational tale of good vs. evil and focuses on the notion that you have a choice in your destiny. Everyone makes mistakes, nobody is perfect, but you can still be good overall.
10. Off the top of your head, what are three words that describe you?
Laid back, Curious, and Intuitive.
---
Learn more about Samantha's work at Pisgah Energy here.